See more information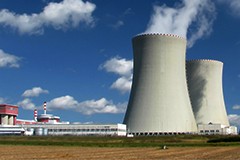 Thermal power stations fired by biomass, fossil-fuel (coal, heating oil, natural gas) or nuclear-powered, hydroelectric power plants, tidal turbines and solar farms, zones with explosive atmospheres (ATEX), refineries and offshore oil rigs… All of these sites have one major concern in common: safety. Fully aware of this problem, OMERIN Group's R&D department has developed ENERSYL® cables that can withstand the most extreme conditions and meet the most stringent requirements (fire, high temperatures, hydrocarbons, salt spray, etc.) while meeting all of these sites' needs for their various applications: power cables, control cables, instrumentation cables, pyrometry cables. ENERSYL® is an innovative and comprehensive offer for our customers, manufacturers, fitters and maintenance supervisors at power plants and high-risk sites.
Cables and braided sleevings
Other solutions from the OMERIN Group
A question, an information?
Contact our team
Contact us