See more information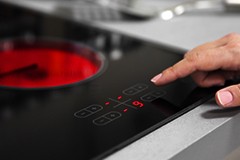 The OMERIN Group is a major player in the Household Appliance sector. Our comprehensive range of products: low-voltage wires and cables (thermoplastic-insulated PLASTHERM®, fluoropolymer-insulated SILIFLON®, silicone elastomer and SILICABLE® composite insulation), ignition wires (SILICABLE® silicone elastomer and SILIFLON® fluoropolymer), SILIGAINE® braided insulated sleeving and VEROX® pyrolysis oven door seals  enable us to offer solutions for almost any application. Our products comply with the main international standards and certifications: UL, CSA, HAR, VDE to guarantee top-notch reliability and quality. In addition to this offer, the OMERIN Group manufactures food-product tubes and flexible heating elements.
Cables and braided sleevings
Downloads
Household Appliances
A question, an information?
Contact our team
Contact us