See more information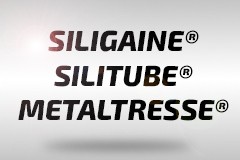 The OMERIN Group is Europe's leading manufacturer of glass yarn, polyurethane, acrylic, and silicone rubber braiding SILIGAINE® (insulating and protective sleevings), SILITUBE® X (fire-retardant sleeving), METALTRESSE® (metal braids). These products have been designed to withstand extreme conditions in sectors such as Electronics, Electrical Technology, Electromechanical, Railway and Naval Construction, Household Appliances, Aeronautics, Power Stations and High-Risk Sites, and Heavy Industry (industrial furnaces and ovens, ironworks, foundries, steel mills and glass works). Our products comply with the international standards UL and CSA. The OMERIN Group has also expanded its offer to include braided sleevings in high-performance materials (ceramic fibre, NOMEX* meta-aramid , KEVLAR* para-aramid, silica fibre, Borosilicoaluminate fibre) in standard product ranges or specially designed. *Registered trademarks of DuPont.
Cables and braided sleevings
Downloads
Braided insulating sleevings
A question, an information?
Contact our team
Contact us